Welcome to CollasLab
Nuclear architecture of adipogenesis
We investigate mechanisms by which 3D nuclear architecture patterns differentiation of adipose progenitor cells into specific adipocyte sub-types, such as lipid-storing white adipocytes and thermogenic beige adipocytes.  We also study how mutations in nuclear lamins causing familial partial lipodystrophy (FPLD2, a subset of laminopathies) affect chromatin architecture and adipogenic differentiation in upper and lower body fat depots.
Our lab consists of 14 researchers, postdocs, PhD students and technicians working to understand the mechanisms regulating chromatin plasticity in adipose tissue progenitor cells.
Meet our team >>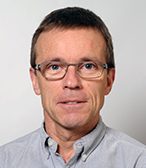 Philippe Collas, Professor
Mailing address:
University of Oslo
Institute of Basic Medical Sciences
Department of Molecular Medicine
PO Box 1112 Blindern
0317 Oslo, Norway
Visiting address:
University of Oslo
Domus Medica, 2nd floor, room 2250
Sognvannsveien 9
0372 Oslo, Norway
Public transport: Tram lines 17 and 18 to Rikshospitalet; get off at the end station and walk to Domus Medica.
Phone: +47 22851060 (Administrative assistant)
philc [at] medisin.uio.no
s.m.taraldsen [at] medisin.uio.no (Administrative assistant)
We are working in the following areas:
Our work combines molecular, genomics, imaging and computational modeling approaches using patient material and engineered progenitor cells isolated from human adipose tissue.
Go to research >>
Funding
News