Nuclear architecture of adipogenesis
We investigate mechanisms by which features of nuclear architecture pattern lineage determination of adipose progenitor cells in health and disease states, including lipodystrophic laminopathies and the metabolic syndrome.
Read more >>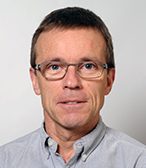 Philippe Collas, Professor, Principal Investigator
Chair, Department of Molecular Medicine
Mailing address:
University of Oslo
Institute of Basic Medical Sciences
Department of Molecular Medicine
PO Box 1112 Blindern
0317 Oslo, Norway
Visiting address:
University of Oslo
Domus Medica, 2nd floor, room 2250
Sognvannsveien 9
0372 Oslo, Norway
Public transport: Tram lines 17 and 18 to Rikshospitalet; get off at the end station and walk to Domus Medica.
Phone: +47 22851060 (Administrative assistant)
philc [at] medisin.uio.no
s.m.taraldsen [at] medisin.uio.no (Administrative assistant)
We are working in the following areas:
Our work combines molecular, genomics, imaging and bioinformatics approaches using patient material and engineered stem cells from human adipose tissue.
Go to research >>
Funding
News
Elen is in her last year of engineering school at Ecole Centrale de Nantes (France) and specialized in bioinformatics and machine learning. In the lab, Elen is working on a…

The lncRNA HOTAIR is the most differentially expressed gene between upper- and lower-body adipose tissue, but its significance in adipogenesis is unclear. We report that HOTAIR expression is transiently induced…

Interactions of chromatin with the nuclear lamina via lamina-associated domains (LADs) confer structural stability to the genome. The dynamics of positioning of LADs during differentiation, and how LADs impinge on…