The Stem Cell Epigenetics Lab: Nuclear and chromatin architecture of adipogenesis
We investigate mechanisms by which high-order and local features of chromatin and nuclear architecture pattern adipose stem cell fate in health and disease.
Keywords: 3D chromatin, nuclear lamina, adipose tissue, laminopathies, epithelial-to-mesenchymal transition.
Read more >>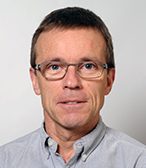 Philippe Collas, Professor, Principal Investigator
Chair, Department of Molecular Medicine
Mailing address:
University of Oslo
Institute of Basic Medical Sciences
Department of Molecular Medicine
PO Box 1112 Blindern
0317 Oslo, Norway
Visiting address:
University of Oslo
Domus Medica, 2nd floor, room 2250
Sognvannsveien 9
0372 Oslo, Norway
Public transport: Tram lines 17 and 18 to Rikshospitalet; get off at the end station and walk 2 min to Domus Medica.
Phone: +47 22851060 (Administrative assistant)
philc [at] medisin.uio.no
s.m.taraldsen [at] medisin.uio.no (Administrative assistant)
Our current projects
Our work combines molecular, genomics, imaging and bioinformatics approaches using patient material and engineered stem cells from human adipose tissue.
Go to research >>
Funding
News